Enigma Prospector 17
The longest of the Prospector series, the 17 foot model is a true workhorse with a well balanced combination of forward speed, manoeuvrability and the largest carrying capacity of any Enigma Canoe. This wide stable canoe is perfect for families and remains a popular choice with outdoor centres and rental operators across the UK.

Inspired by what is considered the best all-round general purpose canoe shape, the Prospector 17 has a moderate rocker for manoeuvrability combined with a forgiving hull-shape making it appropriate for most water types. This is particularly appropriate when doing multi-day trips across various water bodies such as lake touring into rivers or canals into open water, and also those looking complete day trips and wanting one canoe to do it all.

Moulded and outfitted here in the UK, the Enigma Canoes Prospector 17 is made of highly durable materials including a triple layer polyethene plastic hull, robust vinyl gunwales and oiled ash wood work. 2x comfortable wood-webbed seats are fitted as standard, although robust plastic bench seats can be fitted as an alternative seating option (please contact us). It is worth noting that this is not a lightweight canoe at 44kg, and we would recommend considering a trolley to make transportation easier.

A symmetrical hull shape allows the Prospector to be effectively trimmed for maximum efficiency when paddling solo. Whilst ample storage capacity and a long waterline makes this equally as appropriate for families/friends to use. As with all Enigma Canoes, we offer a free of charge click and collect service from any of our UK wide collection points.
Features
Manufactured in the UK
Triple layer polyethylene plastic construction
Tough vinyl gunwales
Comfortable Wood Webbed Seats (on standard model)
Wooden Carrying Yoke
Wooden Thwart
Comfortable Ash Bow and Stern Carry Handles
End Cord/Loops
Specification
Length:508cm / 16'7"
Width: 94cm / 37"
Depth at mid point: 38cm / 15"
Weight: 44kg
Capacity: 525kg
Enigma Prospector 17 Construction
The Enigma Prospector 17 is constructed from the best triple layer polyethylene, specifically designed for the marine and watersports industry. Our manufacturer specialises in 'triple shot' manufacturing, which means the products are made in 3 layers of differing polyethylenes (PE) and is known as a 'sandwich'.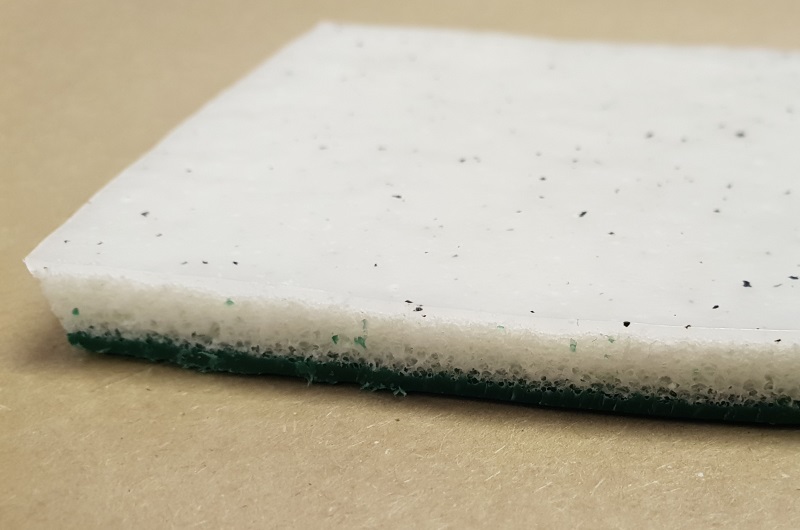 The 'sandwich' consists of:
An inner layer of a low to mid-density PE;
An inner layer core of PE foam and;
An outer layer of coloured middle to high density PE.
All Enigma canoes are produced using this three layer sandwich foam technology.
The foam core, in addition to the single layers of polyethylene adds insulation, flotation and increased robustness, stiffness and lightness.
All Enigma Canoes are outfitted with top quality hardwear. We use only Stainless fittings as well as oiled wooden seats, yokes and thwarts.
We are also able to offer centres/trade customers plastic seats, please Contact Us for further details.
Enigma Prospector 17 Colours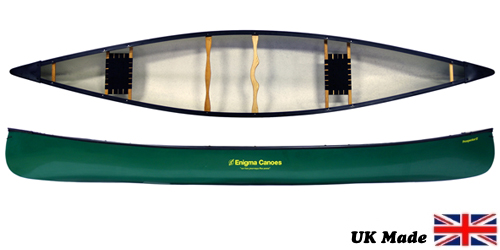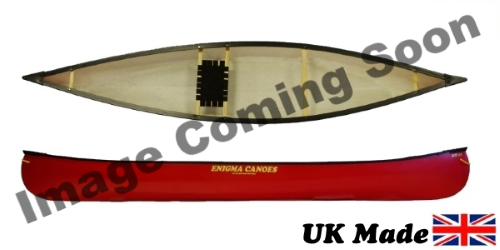 Delivery
We offer a delivery service for the Enigma Prospector 17 throughout the UK & Ireland to home and work addresses.
Where possible we send canoes using our specalist courier service who normally deliver within 3 working days of despatch. More remote areas can take a little longer for delivery. The delivery price will be shown in the shopping basket
We are also able to offer a bulk buy delivery service for trade customers, please contact us for further details on this.
Collection - Click & Collect
Buy a Enigma Prospector 17 online from our website and collect from one of our nationwide branches.
We will contact you to arrange collection upon receipt of you order.

Our Stores are:
Enigma Canoes | Manchester Canoes

- Warrington, WA1 4RF

Bournemouth Canoes

- Poole, BH16 5BW

Brighton Canoes

- Newhaven, BN9 0DH

Cornwall Canoes

- St Columb Road, TR9 6PZ

Kayaks & Paddles

- Plymouth, PL21 9RL

Norfolk Canoes

- Norwich, NR5 0JU

Southampton Canoes

- Totton, SO40 3SA
Why Buy From Enigma Canoes
All our Enigma Canoes range is UK made and manufactured.
Enigma Canoes are all UK made by an experienced manufacturer with over 45 years moulding experience.
We are a real business with reputable dealers located around the UK (click here for full details).
Our business is owned, managed and run by knowledgeable staff that use our products.
We only use reputable couriers to deliver our products.
We can offer expert advice - call us on 01925 818 437.